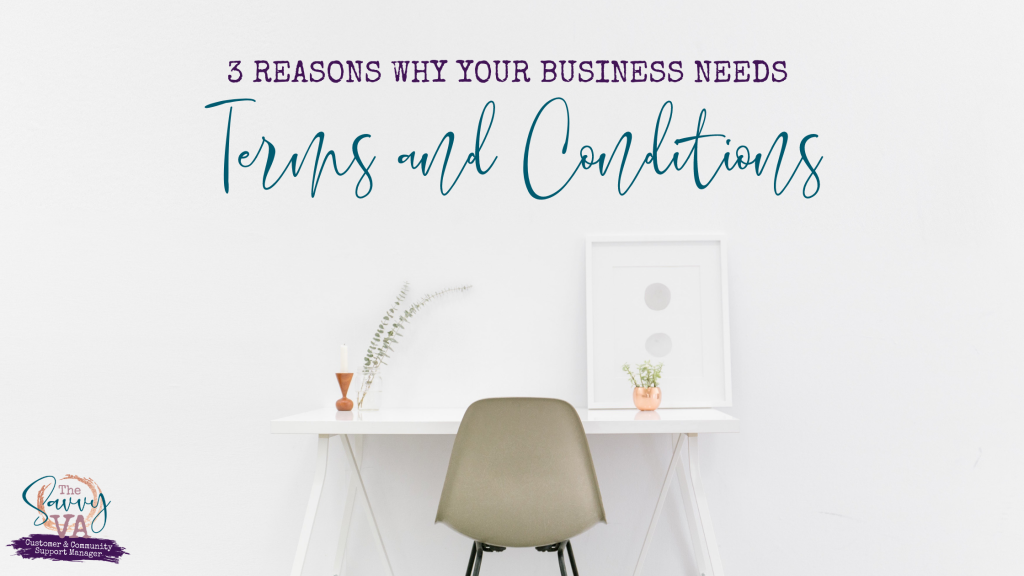 When starting your own business, there's a never-ending list of decisions to make and tasks to complete.
Deciding on your product/service, designing your brand, and finding customers, are the jobs that often take priority.
The less interesting elements of business, like making sure you have the right terms and conditions in place, tend to fall to the bottom of the list.
Although they may not be a legal requirement, and they're not the most thrilling aspect of business, without a good set of T&C's you're putting yourself at risk of huge negative impacts in the future.
I can't stress enough how important terms and conditions are for all businesses! So here are my top 3 reasons why your business NEEDS a good set of terms and conditions:
#1 They protect BOTH you and your customer
One size definitely does not fit all when it comes to finding the right terms and conditions for your business. Dependent on the service you offer, the industry you work within and the practicalities of your business, the contents of your terms may differ – but they all have the same purpose.
They are there to provide absolute clarity on what should happen in certain situations. Most should consider including a clear description of the product/service provided, timelines for delivery/fulfilment, payment terms, any guarantees or warranties and the course of action if either side of the party doesn't deliver or wants to end the agreement.
By including this information, you are not only covered and liable for the service you offer but so is your customer. Meaning you are both legally obligated to fulfil your side of the deal unless you wish to suffer the penalties.
To make sure your terms and conditions are completely airtight and accurate for your business, it's worth investing now – especially considering the money they save you in the long run!
Pulling a ready-made template from the internet may be the quicker and cheaper option, but it's highly unlikely they include the necessary information to protect you.
#2 They reduce negative feedback, cancellations, and refund requests
Having a clear outline of your agreement with customers from the get-go minimizes the chance of complaints by managing their expectations. Helping them understand exactly what they're signing up for and giving you something to fall back on if they do complain or cancel an order.
By displaying your T&C's before the point of sale, and sending it again afterwards, your customers are less likely to complain or ask for a refund as it is clear what they agreed to pay for.
If you explicitly include a 30-day refund clause, for example. It discourages customers from trying to cancel orders outside of this period as they know that's what they agreed to. Most customers anyway, as despite how hard we try there will always be those people we just can't please.

I am a firm believer in standing by your terms and conditions – and this is why they're so necessary! They give you something to back yourself up with if a customer does follow through with a complaint:

"According to the date of your request, unfortunately, you have already passed your cancellation period by X amount of days."
"As agreed upon in the terms and conditions you signed on purchase, payment is expected before you can access the product/service."
Whatever the issue may be, as long as you have relevant T&C's in place for your business, you have nothing to worry about next time a refund or cancellation request lands in your inbox.
You'll find most customers are deterred from complaining just by accepting T&C's in the first place as it is clear to everyone involved what the agreement in place was.
#3 They will save you plenty of time and money!
By having appropriate terms and conditions in place for your business – and displaying them clearly at multiple points of your customer journey – you're avoiding a lot of potential stress and waste of resources.
This could be in the form of a cancelled order before payment, but after you've ordered materials. Without terms and conditions in place, you have no choice but to just accept the loss and move on.
Maybe it's simply a case of late payment, which seems like a regular occurrence for plenty of small businesses. However, with the right T&C's you can ensure you get paid first and you'll see those slow payments become a thing of the past.
In the absolute worst-case scenario, you could end up spending heaps of money and wasting lots of time with debt collections court proceedings chasing late payments, or no payment, which could end up leaving you even more out of pocket after months of hassle!
But with the right terms and conditions in place, you minimise the chance of any future issues that could affect your cash flow or waste your valuable time.
If you're unsure about how appropriate your terms and conditions are – or need some help to put some in place – drop me a message for more information on my Customer Service Excellence 1:1 Mentorship Programme.
As well as making sure your T&C's protect your business, we'll go right back to the beginning and look at how you currently interact with customers, the processes and systems you have in place and your customer journey map. As well as setting up some standardised responses and implementing software to help you deal with inbound enquiries.

If you follow the steps and guidance I give you over the 6 weeks, you will see huge savings in time and an increase in customer referrals.
So if you're ready to implement a more effective customer service strategy – for both you and your customers – get in touch.